I wanted to do some direction following and learning right and left, as well as memory, so I created a pizza delivery game. This game uses a floor road map that I made, and writing out and following the directions to get to different houses on the map.
I made this huge road map on a new fabric shower curtain that I had lying around (don't ask why I had a bunch of fabric shower curtains – that was another project). I made the roads out of black duct tape, put pieces of blue duct tape beside the roads to represent houses, and used some white duct tape to write the names of the roads and the numbers of the houses onto. I wasn't sure when I started whether the duct tape would stick well enough, but I can now officially say that it does. It stays on the fabric very well, and I have folded and unfolded it many times with it staying well stuck in place. I am sure that I can't wash it though.
The game we play is having the kids be a pizza delivery person, and they have to deliver the pizza to the right house. I write out directions to get to one of the houses, and the kids then have to read and follow the directions. The directions are simply right on Shell St., Left on Hill St., etc.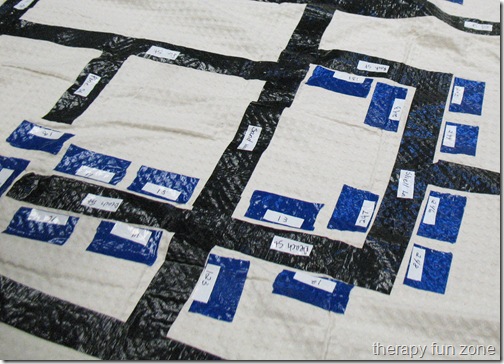 This was a challenge for most of the kids that I was working with, and it helped them work on right and left, following directions, and reading the directions. After I wrote the directions, I had the kids write out directions for me to follow. This task was even harder than following directions. It was very difficult for them to write the street in the order that was needed to follow rather than just jumping ahead to the end.
I will be doing this activity many times this year as it will take the kids a while to really incorporate all of the concepts into the task.
Materials:
Large piece of fabric
Duct tape (black, white, colored)
Pen
Skills:
Direction following
Sequencing
Writing
Reading
Right / left directionality
Save
Save

The following two tabs change content below.
Tonya is a pediatric Occupational Therapist, and loves creating things to work on skills and solve problems.
Latest posts by Therapy Fun Zone (see all)