You know those days where you can't find the activity that you want to do, and all you can find in your bag is some paper. I have no problem making any activity that I find therapeutic, so I pull out the paper and want to work on writing. Well Hang man fills a lot of the criteria that I look for in a simple easy to do activity.
I love to play hang man in therapy because it motivates kids, and they can practice writing their letters and focus on getting the letters on the line and forming them properly. I usually just play on a blank piece of paper, but I thought that I would make a template that has the spaces already there for kids to try to fit their letters in the spaces. I also made a shaded little guy hanging from a playground bar for kids to trace over when drawing in the parts of the man. I want kids who have trouble with drawing to be able to practice those visual perceptual skills.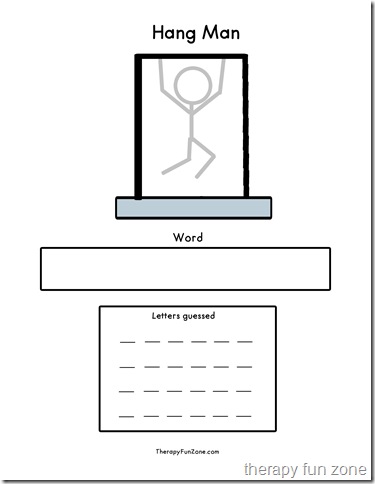 I made a full page model, and two and four to a page to decrease the size of the spaces that the letters should be written on.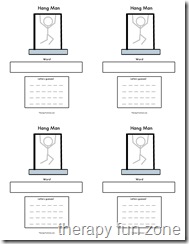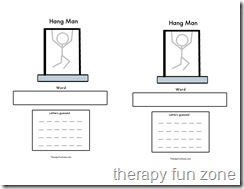 Materials:
Skills:
Fine Motor
Handwriting
Visual Perceptual
The following two tabs change content below.
Tonya is a pediatric Occupational Therapist, and loves creating things to work on skills and solve problems.
Latest posts by Therapy Fun Zone (see all)