The therapy ball is great for therapy. Don't you love the obvious.
You can turn work on the therapy ball
 into fun play. Have the client lay on his stomach and you stand by their feet.
You roll the ball forward until their hands touch the floor. Keep rolling forward and have them walk their hands forward to pick up a puzzle or game piece that you place out there for them.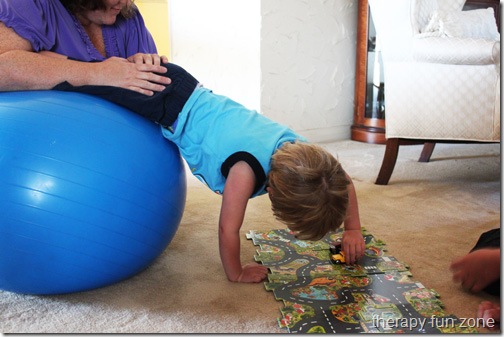 Then you can roll them back so that they are laying on top of the ball again and they can use the game piece that they picked up.
Good games to play this with are Toss Across
, other bean bag toss games
, Connect 4
, puzzles
, marble or Ball Maze
, and so on.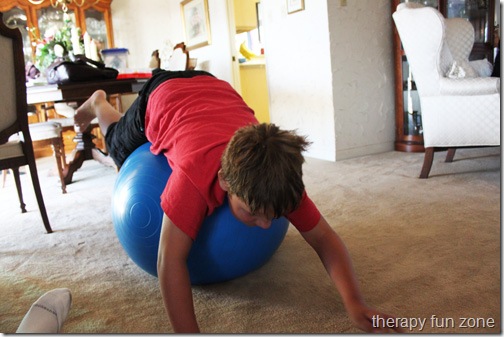 It's a great activity for upper extremity strengthening, upper extremity range of motion, trunk strengthening, shoulder stability, and using an involved extremity.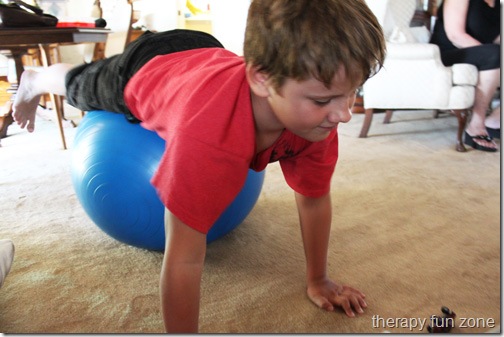 If a child is afraid of movement or being up on the ball, you need to start slowly and just let them get used to the ball first.
Make sure you are using the ball safely too. You must have control of the client and the ball at all times.
Materials:
Therapy ball
Game – toss across, bean bags, marble maze, etc.
Mat for the ball to be on
Skills:
Upper extremity strengthening
Reach and grasp
Upper extremity range of motion
Shoulder stability
Trunk strengthening
Using involved extremity
Vestibular
Proprioception
Heavy work

The following two tabs change content below.
Tonya is a pediatric Occupational Therapist, and loves creating things to work on skills and solve problems.
Latest posts by Therapy Fun Zone (see all)