Putting Ourselves In A Box To Help Parent's Think Outside Of Theirs
There is an awesome new product in the shop that was created by a pediatric PT and a Speech therapist.  It is a set of cards focused on early intervention development and activities called 1-2-3 Just Play With Me.  I will let the creators of this product explain to you what it is and what it does.
We welcome this guest post By: Nicole M. Sergent, MPT & Lacy Morise MS, CCC-SLP
As an early intervention Physical Therapist, I go into homes, identify which milestones I'd like the parent to help me teach their child (based on their age/and/or current developmental stage) and leave them with play activities that I have modeled to help meet those goals. My best friend, a Speech Language Pathologist does the same with speech and language milestones. 8 short years ago, as we both sat expecting our daughters, we wondered to each other…why do general child developmental references not do this? In our work, we saw this pairing of purposeful play for specific milestones work beautifully for children with special needs or developmental delays. Why hadn't anyone created a resource like this for the general population? Resources we knew either told you what to expect OR gave you some play ideas, but we couldn't find one that shared what to expect at a certain age and how to enjoy and engage with a child to learn these exciting skills.
We certainly saw a need. Many of our friends, with a wide variety of professional skills and creative gifts, had called us with developmental questions frequently…
When will he talk?
How can I get him to go up the steps?
What age do kids start pretending with toys? Really? That early?
It was then that we started realizing that parents today are getting a faulty message about development. Society is teaching them that toddlers need to read, and take lots of classes, and stay neat and clean, and quiet. And parents are believing them. Because that's what toys are sold to teach us…and what the neighbors kid can do (or so her mom says)…and what the preschool promises. As new mothers we felt that pressure too and it was not a good feeling.
And so we thought, WHAT IF we could create that resource that did what we knew worked as therapists (matched detailed milestones WITH purposeful play ideas) and what we needed as mothers (a reminder that our children need to be allowed to have a childhood for many good reasons). And so we did.
This is 1-2-3 Just Play With Me.
Inside this durable boutique style box, you will find 75 large cards ranging from birth to age 3. The cards are color coded for the 5 main domains of child development:
THINKING AND LEARNING: cognitive development
FRIENDS AND FEELINGS: social emotional development
MOVING AND GROOVING: gross motor development
HAND IN HAND PLAY: fine motor development
TALKING AND UNDERSTANDING: speech and language development
It's actually pretty simple. You find the age (or developmental level) of the child you are working with and chose the color card for the domain you are interested in. On the front of the card you will find detailed milestones and on the back each is paired with a purposeful play (intervention based) activity or educational aid. The set is completed with 17 reference cards on topics we are asked frequently by parents, including sleep, discipline, and potty training tips, book and toy recommendations, and referral for early intervention services for each US State and province.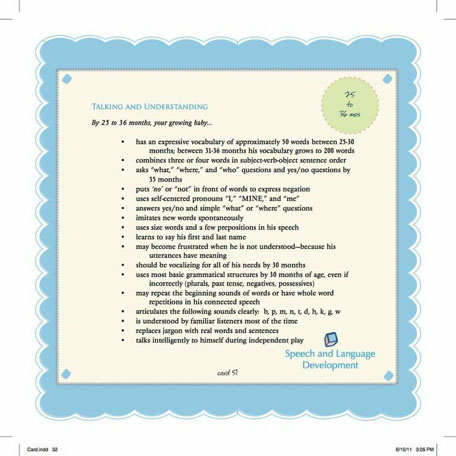 We originally designed the set for sale through our company Milestone & Miracles. We planned to sell it on our website and with baby retailers. And while we do sell in this way, we have had an overwhelming response from pediatric therapists, both as a professional resource for themselves or as their favorite baby shower gift!

Professionally, the card format allows you to mix and match milestones and strategies for a child who has delays in some areas but not others. AS parents, we chose the design of the card format (vs. a book) because we found it more practical with a new baby.
Using it as a parental education tool allows you to not just present a concern or delay, but to also provide what we are all here for – the solution in helping kids become as independent as they can.
Used throughout the US and internationally by therapists, child care providers, Early Head Start professionals, and parents, 1-2-3 Just Play With Me has been called "Birth To Three In A Box" and "The Instruction Manual I Wish Every Baby Came With!" To read detailed reviews on it, please visit the testimonials on the Milestones and Miracles website.
Check out the video about 1-2-3 Just Play With Me.

Order yours today for professional use or as a gift. We always offer free shipping!  You can find it at My Therapy Shop.
We can be reached at [email protected] if you have any questions about the product. Our website milestones and miracles also offers sample cards for viewing, an extensive blog, continuing education, and links to social media, including PINTEREST with boards organized by types of play.
We are excited to be featured here at Therapy Fun Zone & look forward to connecting with other pediatric therapists who believe in PLAY as the BEST way a young child learns!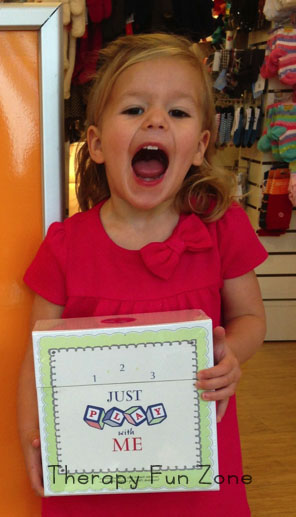 Save


The following two tabs change content below.
Tonya is a pediatric Occupational Therapist, and loves creating things to work on skills and solve problems.
Latest posts by Therapy Fun Zone (see all)