Sentence Memory for Copying
I have a group of three students who have trouble copying sentences from the board in class. When we did some practice during therapy, it turned out that the kids could not remember the words that they were trying to copy, so they were copying the words one letter at a time, and did not really even know what they were copying.
They needed an activity to work on helping them to remember the words in the sentences, as well as working on their fine motor skills.
I couldn't find an activity that would do what I wanted, so I made it.
I printed out five sentences, and glued the words on to craft foam pieces, and glued a magnet to the back. The foam is built up enough in order to pick up the words with a pinch clip (or clothespin) and place it on a magnetic board.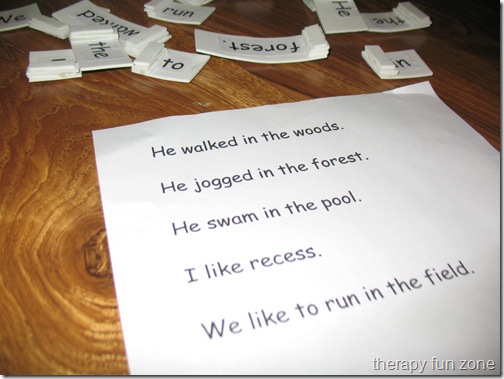 The kids read a sentence first, and then I covered the sentence. We went around the circle and one at a time when it was their turn, they found the next word, picked it up with the pinch clip, and placed it on the board in order.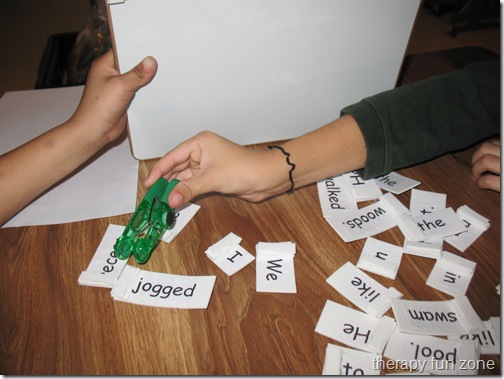 The kids had to scan all of the words on the table in order to find the right one. They also had to remember the sentence until it was their turn so that they would know which word they needed to find next.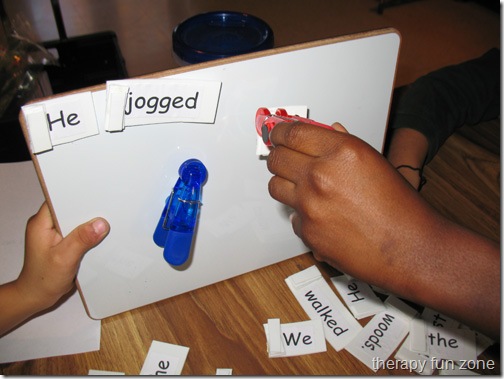 This activity was a challenge for these students, but they had some success.
Next time we do the activity, I am going to have the students write out the sentence on paper after they finish putting the words on the board. This activity could also be done with the alphabet and spelling out words.
Materials:
Sentences
Words (printed)
Craft Foam
Magnets
Magnetic board
Glue – to glue words to the foam
Hot glue – to glue the magnet to the foam
Skills:
Memory/Visual Memory
Visual perception
Fine motor