I saw the Ogo Sport Disc
during some random internet shopping, and they looked like they would be fun to play with. I did not realize how fun they would be though until my son started playing with them.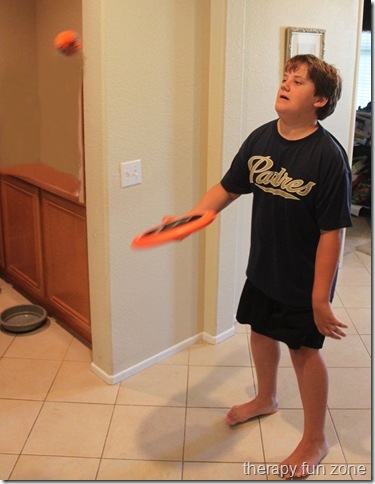 They are round discs that have a springy fabric center. You use a koosh type ball with them and hit the balls back and forth. They come in a large size that almost forces you to use both hands to hold the disc, and they also have a mini size. The one in the pictures is the mini size.
The Ogo Sport discs are fun to play with multiple people hitting the balls back and forth, and they are fun to play with one person, just hitting the ball up in the air. It is wonderful for working on eye hand coordination and visual tracking.  If you use the larger discs, they are good for bimanual hand use as well.
Materials:
Skills:
Visual motor
Eye hand coordination
Visual tracking
Bimanual hand use
Looking to find printable activities? You can find them in the community shop



**** I often will link to things on Amazon. These are usually affiliate links that will pay me a couple of dollars if you happen to buy something while there. Any money made through the Amazon links goes back into this site and helps us keep it going. Thank You.
The following two tabs change content below.
Tonya is a pediatric Occupational Therapist, and loves creating things to work on skills and solve problems.