Here is an activity to make a paper flower bouquet. I created some flower templates, but my daughter said that they were too hard, so I simplified them, and these ones are much easier. You could print the template one time onto card stock and then have the student trace it onto colored paper and cut it out.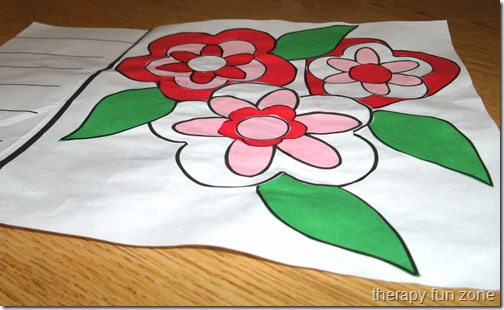 I decided to print mine onto colored paper so they were ready to be cut. I printed the flower template onto pink, red, and white paper. I also printed the leaf template onto green paper. I then cut around each one so that the student could decide which colors they wanted to use for each flower.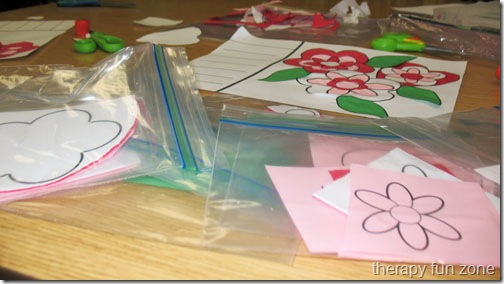 The student then cuts out the flowers and glues them on in layers of different colored flowers to make one multicolored flower. I may repost this one when spring comes along and I do it again in spring flower colors.
It was easier for the students to copy flowers that I had made and my color pattern than it was for them to decide on their own color pattern. I had them glue their flowers onto the right side of the paper and then have them write something valentiney on the lines on the left side of the paper. I decided to have them be their own valentine and they had to write some things that they love about themselves.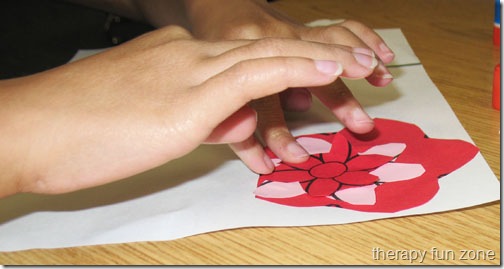 Materials:
Flower pattern and leaf pattern
Colored paper
Scissors
Glue
White paper
Pencil
Skills:
Fine motor
Bimanual
Finger strength
Visual perceptual
Motor planning
Save


The following two tabs change content below.
Tonya is a pediatric Occupational Therapist, and loves creating things to work on skills and solve problems.
Latest posts by Therapy Fun Zone (see all)